The UK is getting a lot of bad press lately because of Brexit - which tends to overshadow the fact that the UK is ranked by the World Bank as the least costly place to start a business (along with Slovenia), and the 8th easiest country to do business with in the world, after New Zealand, Singapore, Denmark, Hong Kong, Korea, the Republic of Georgia, Norway, and the US.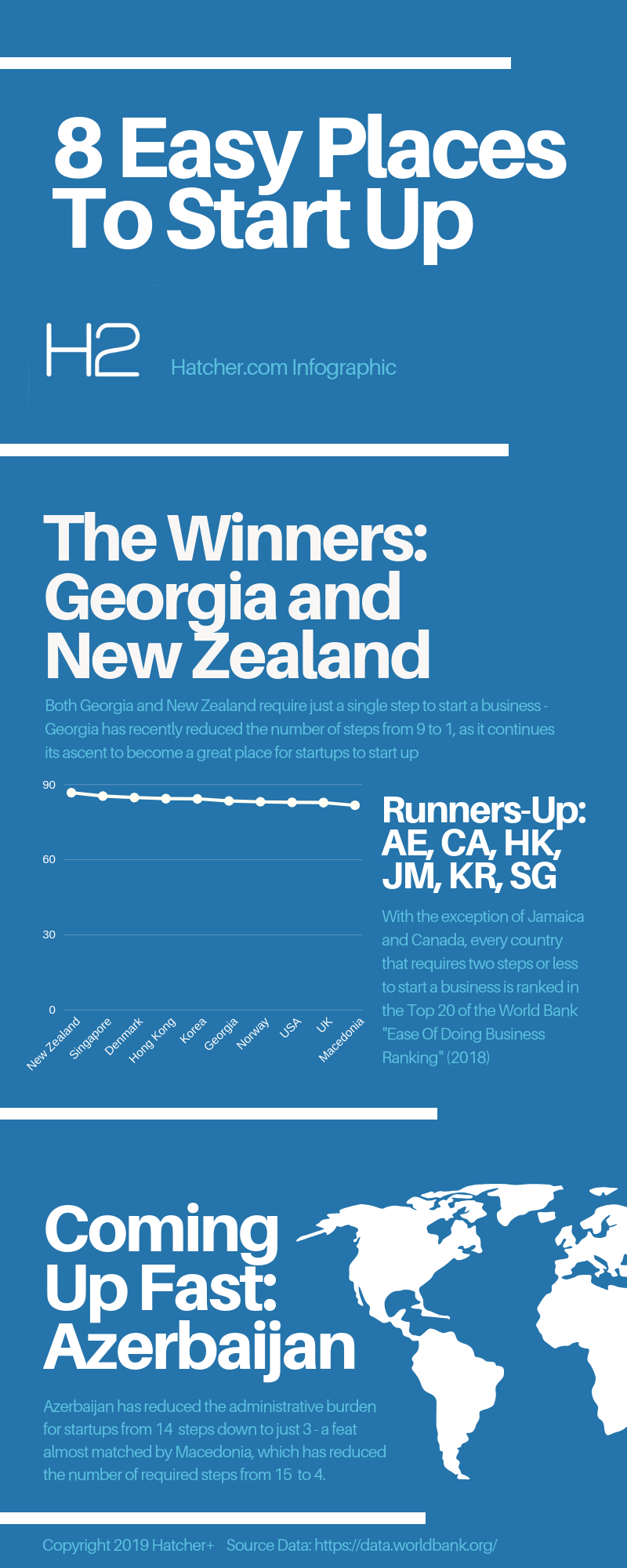 But it's really New Zealand that takes the cake as the easiest place for a startup to start up.  Again according to the World Bank, registering a business in New Zealand takes just 0.5 days - a timeframe that is one third that of nearest rivals Hong Kong, Singapore, and Canada (1.5 days) - and four times faster than next-placed Georgia (2.0 days).  
New Zealand is also the third least-expensive place in the world to register and/or start a business - and doing so requires just a single step (only Georgia is directly competitive on this score - the Republic also requires just one submission.)  Honorary mentions to both Azerbaijan and Macedonia - both of whom have made made changes to their registration processes since the survey was first conducted (Macedonia, incidentally, is now considered the 10th easier country in the world to do business in - a data point I was unaware of until I started writing this post.)

Are these single points of difference important?  Maybe not... but collectively these differences are what enable startup ecosystems to develop.  In recent years the UAE (where I am writing this from) has put major effort into reducing the paperwork required to register a business (from 10 steps to 2), and has created an innovative "open arms" policy that makes it easy for startups founded by expatriates to set up - and pull in staff from virtually anywhere in the world.  Its passport is now the world's most powerful travel document and its currency remains pegged to the USD, allowing startups to more easily raise capital in dollars.  And then there's the one million square foot Nomad co-working/co-living space currently under development...
Can New Zealand become a startup hub?  Sure it can - it is already on its way (there's at least a couple of very good NZ startups in the Hatcher+ portfolio.  And then of course there's Xero.)  
In emerging markets, Rwanda's active enablement of new businesses is well-known, but in Africa, Djibouti and Kenya are also making big strides.   Also making moves up the ladder?  China - the World Bank is ranking that country's ease of doing business at the same level as that of Belgium - home of the EU parliament.  And you can complete a new business registration there is less time than in Switzerland, Japan, and Russia (tip of the hat here to Afghanistan - a country in which it is possible to also register a business in less than ten days - compared to over 70 days for neighbouring Iran.
A tip of the hat also to the US - which, despite a much larger population of 300 million people (compared to New Zealand, Georgia, and most of the other places at the top of the World Bank table) remains a highly competitive and easy place to do business.  Unless of course you're not American - in which case, it might make more sense to head for Dubai - or New Zealand.
Want to see some of these stats for yourself?  Here's the link.