I just finished reading comments related to the news on the 500 blog that Dave McClure is stepping down as CEO at 500 Startups.  From those comments, it's clear that there is still a lot work to do - by all of us - to get to gender parity in tech. Thankfully, the tech industry is not exclusively run by people with gender biases - and there is data to support the fact that progress is being made, despite some highly visible recent examples to the contrary.    
Let's start at the top - the people investing.  Many pension funds and other LPs are increasingly being run by women - and the data shows that more female angels are investing than ever before.  At the startup level, in the US and elsewhere, more young women are entering tech - the number of women studying computer science has risen over 110% in the past five years - and female grads now make up over 30% of Stanford Computer Science majors - one of the top CS programs.  And according to Crunchbase, the number of female founders getting funding is steadily increasing as well.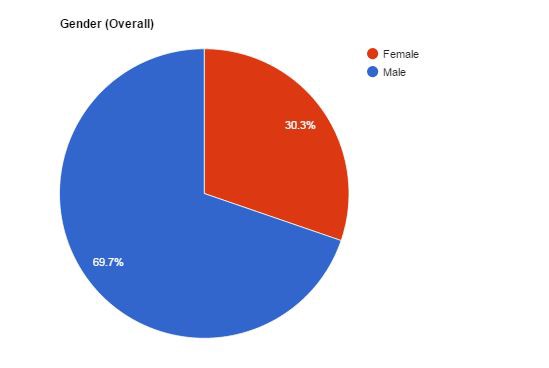 Stanford Computer Science Majors - Class of 2018 (Source: Jorge Cueto)
It's true that VC partnerships are lagging when it comes to involving women at the IC level.  But logic says change will accelerate.  As more female founders exit, they will be asked to join VCs as partners in larger numbers, based on merit and money (experience in executing business plans and exits - and an ability to invest - are the fundamental requirements for becoming a VC partner, not gender.) 
Too rosy of an assessment?  I really don't think so.  According to Crunchbase and Pitchbook data, we've reached a point where investment in US tech ventures founded by women (~18%) and hiring at tech majors (16% at Facebook and 18% at Google) roughly equate to the five year average rate of US graduates in that same area of study (i.e. CS.)  If you look at the rise in investment in female-led startups and the increase in graduation rates for women in the sciences over the past ten years, it's hard not to draw the conclusion that they are correlated.
So what has to happen to further boost change?  Clearly, there appears to be a link between the number of women majoring in the sciences and investment, and hiring in the tech industry.  If this turns out to be true, and graduate ratios continue to improve, there *will* be more investment in women.  VC cash will follow capability, and as those founders exit and cash up, more women partners will join (or form) VC partnerships.   
What more can be done?  Probably quite a lot.  Here's some ideas about things we could all do to make further progress:
- de-emphasise certain personality traits and focus instead on data and non-gender-related founder attributes when it comes to assessing pre-seed and pre-accelerator-entry opportunities
- actively seek out female mentors and advisors.  Our own advisor group is 50/50 and includes two highly-skilled, successful, experienced women (note: we didn't plan this outcome based on any policy invoking gender - selection was based on capability, experience, and awesomeness, which these two women have in abundance.)
- insist that conference organizers invite more women to sit on panels, or speak individually (Christine Herron of Intel Capital was an inspiration at the recent Global Ventures Summit that I attended in Bali)
- work harder at eradicating gender bias at the university/accelerator program entrance level, either by using gender masking or through active selection
- deal with issues invoving harrassment early and thoroughly - and own the result (I agree with the comments that the first word on this should have come from 500, not the New York Times)
- use data to prevent the reverse bias that women are being "locked out" by gender-biased VCs (women currently make up around 20% of US computer science grads - on this basis, it is probably unrealistic to expect that far greater than 20% of future US funding for AI / software / network equipment companies should go to women.)   
- if you are a woman leading a startup, and the people reviewing your plan are men, resist the urge to assume you are being rejected based on gender. Our research on accelerators and VC firms worldwide shows that investment rates consitute less than 1% of total submissions (in many firms, it is much less than 1%.)  
- do a better job of understanding and acting on the actual performance data - in 2016, Credit Suisse did an update to a study of 3,400 companies and found that the ROE was 19% higher - and dividends 9% higher - when the CEO was a woman.    
I'm certain this list is incomplete - please include your ideas in the comments.   And if your read of the data is different, I'd love to hear your view.  And if I have inadvertently displayed any biases of my own here, please accept my apologies - like many men working in tech, I'm a work in progress when it comes to recognizing gender-parity.