Saturday, September 15, 2018 by John Sharp (Hatcher+) 2,912 Views
Last night, I watched a video presented by Richard Wilson, CEO of the Family Office Club, that I thought did a very good job of covering many of the core, operational and deal flow management problems faced by family offices.  One of the slides showed data on the growing number of centimillionaires (people that have over $100MM in assets) from a recent Knight Frank Wealth Report (which is an excellent source of data on the subject.)  It showed that roughly 1 in every 200,000 people is a centimillionaire - which is, roughly speaking, a population a thousand times smaller than the number of millionaires (1 in 200) that  you might encounter in any given day.  
Here's a handy infographic: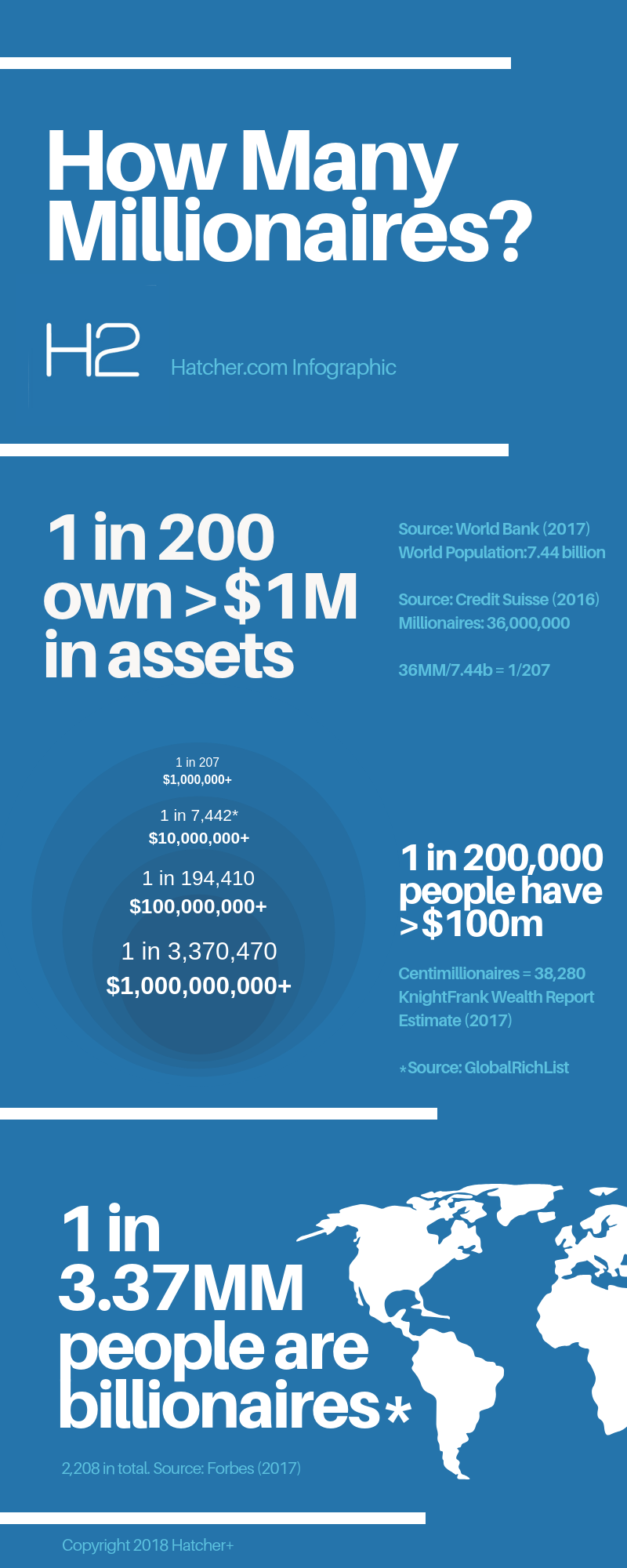 A final thought - if you've not visited the site maintained by Care - GlobalRichList.com - you should. Not only does it tell you how much you're worth, and what your wealth is relative to other humans on the planet, it provides some great ideas about how you can put that wealth to work.
John is a Partner at Hatcher Plus, the leading data-driven venture capital investment firm. John has extensive commercial experience at the senior management level, having been the Chief Executive Officer of Authentium, Inc. the Managing Director, Asia, of WorldSpace, and CEO of Hatcher, the precursor company to Hatcher+. A tenacious and driven executive with longstanding board-level and C-suite level management experience within high-growth companies, John also brings a strong history of capital raising from an extensive network of investors globally. As Chairman and CEO of cybersecurity pioneer Authentium (acquired by CYREN in 2010), John co-authored three US patents and developed and sold cybersecurity solutions to some the largest organizations in the world, including the US Department of Commerce, NASA, AOL, British Telecom, Comcast, Cox Communications, Google, McAfee, Microsoft, Symantec, and Telstra. As CTO at Hatcher+, DocDoc, Heardable, and ThoughtRiver, John has designed and developed several highly-innovative technology platforms using cutting-edge approaches to data processing, user interface design, and workflow optimization. John is a frequent blogger and an in-demand speaker at venture events globally, and has extensive experience implementing ESG solutions as Chairman and/or board member of numerous start-ups, including director roles at trade finance provider ASYX and payment aggregator Mozido, and roles as Chairman of MENA-based financial services pioneer Telr, and the leading Cambridge-based legal services technology company, ThoughtRiver.