Tuesday, October 28, 2014 by John Sharp (Hatcher+) 3,784 Views
If you're an older CEO running a startup, chances are you're running a Hatcher startup.  Because we "skew older" - we go out of our way to look for entrepreneurs that have a bit of scar tissue, as opposed to 20-year-olds with zero experience dealing with tough times.  
Why?  Partly because we've had a great run of hiring forty-plus guys at our portfolio companies - because when you put someone in charge that has previously been in charge of something bigger than a lemonade stand, stuff like reporting, project management, firing quickly, hiring slowly, realistic modeling, and an ability to stand in front of a room full of people, remove the cheerleader skirt, and tell the truth... well, that kind of behavior tends to create sustainable success.
And not only that... when you connect with an entrepreneur who, at age 42, is starting his first business, you are connecting with someone who has serious skin in the game: kids in school, a mortgage, maybe one or two car payments... for someone with this kind of burden to take the leap takes commitment.  
Previous to this week, we've tended to do this without a lot of scientific backing.  But a few days back, the University of Central Connecticut produced the results of a study which confirms what we've had a gut feeling about for some time: startups led by older founders do better - much better (as the graphic notes below, 50 years olds are consistently better than 30 year olds when it comes to leading startups to a sustainable future.)  
Check out the middle column (the full chart is available at the link above):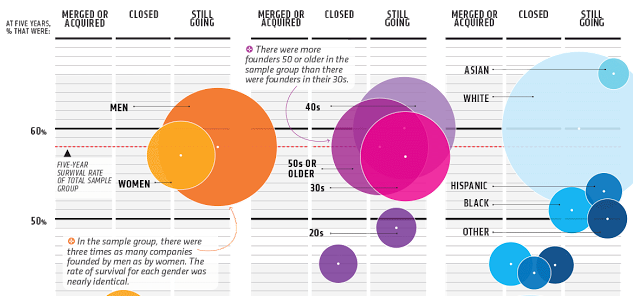 John is a Partner at Hatcher Plus, the leading data-driven venture capital investment firm. John has extensive commercial experience at the senior management level, having been the Chief Executive Officer of Authentium, Inc. the Managing Director, Asia, of WorldSpace, and CEO of Hatcher, the precursor company to Hatcher+. A tenacious and driven executive with longstanding board-level and C-suite level management experience within high-growth companies, John also brings a strong history of capital raising from an extensive network of investors globally. As Chairman and CEO of cybersecurity pioneer Authentium (acquired by CYREN in 2010), John co-authored three US patents and developed and sold cybersecurity solutions to some the largest organizations in the world, including the US Department of Commerce, NASA, AOL, British Telecom, Comcast, Cox Communications, Google, McAfee, Microsoft, Symantec, and Telstra. As CTO at Hatcher+, DocDoc, Heardable, and ThoughtRiver, John has designed and developed several highly-innovative technology platforms using cutting-edge approaches to data processing, user interface design, and workflow optimization. John is a frequent blogger and an in-demand speaker at venture events globally, and has extensive experience implementing ESG solutions as Chairman and/or board member of numerous start-ups, including director roles at trade finance provider ASYX and payment aggregator Mozido, and roles as Chairman of MENA-based financial services pioneer Telr, and the leading Cambridge-based legal services technology company, ThoughtRiver.