After a year and a half of positioning ourselves as "data driven venture investment", we've decided it's time to update the way we communicate the strategy behind Hatcher+. "Data-driven venture investment" misses three of our four core strategies, and doesn't capture the scale of what our model is capable of.  So, we've come up with a new slogan: "The AI-powered, highly-automated, global diversified, exchange-tradable VC."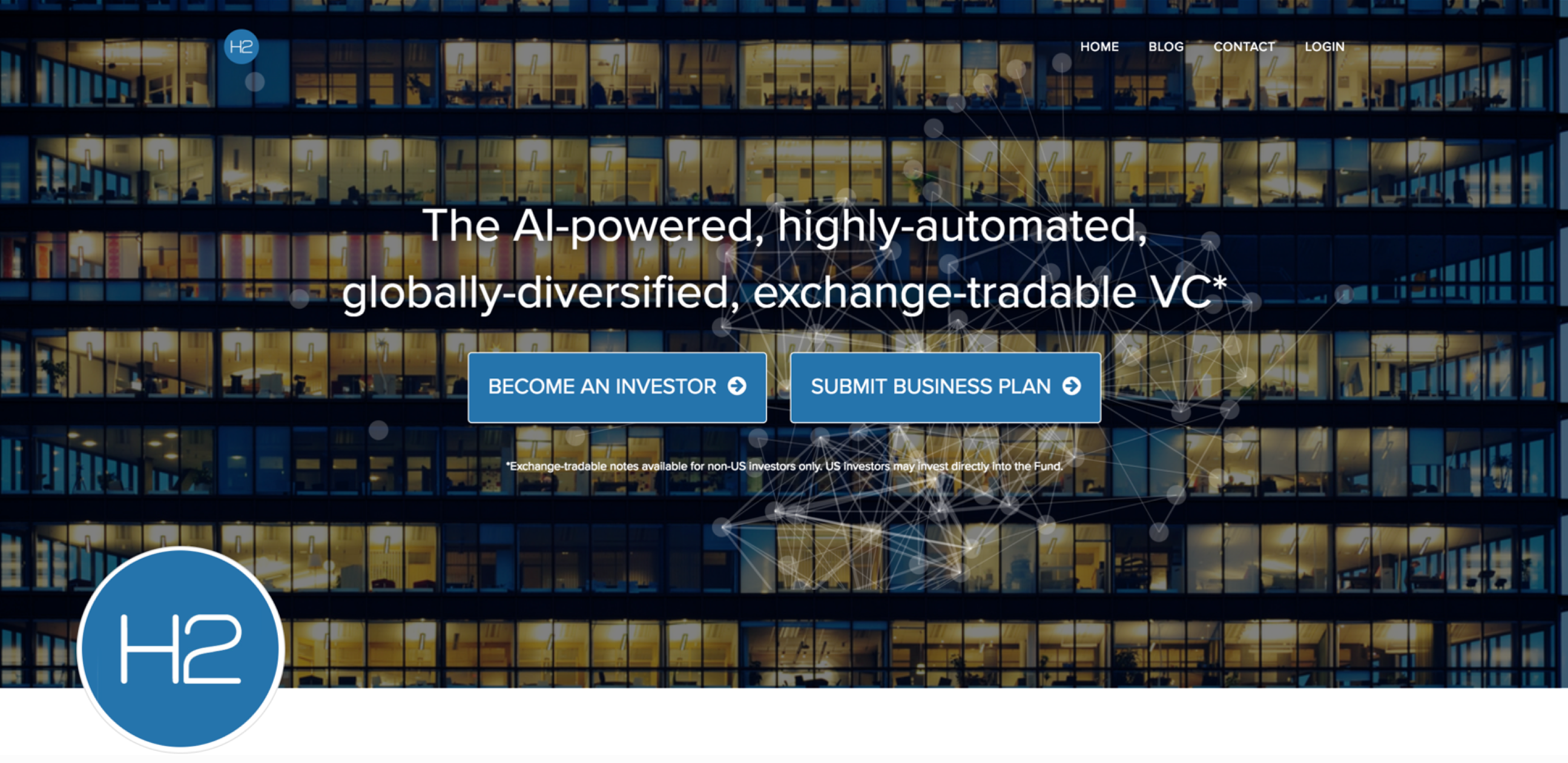 Let's explore how we got here, and why we think these approaches could change the VC landscape, and improve investor outcomes.

AI-Powered Decision Support
As we define it (and we have support on this from none other than Stephen Hawking), intelligence is the ability to adapt, and transform your thinking based on that adaptation. AI in a key sense involves teaching the computer how to learn and adapt based on the input data, rather than specifying all the routine and exception cases directly in human created logic. This inverts traditional automation and requires new kinds of feedback, adaptation and analysis mechanisms.
Put another way, if you're simply collecting and collating data based on a set of stable rules, that is not AI - that is data processing, pure and simple. By contrast, machine learning approaches tease out subtle, interconnected information and combines it in intricate, often unforeseen ways to produce useful outputs for humans - or additional processes. 
We use AI-powered algorithms, along with simple rules-based data processing, to evaluate investment opportunities within the Hatcher+ ERP platform. We use mainly rules-based systems to determine the quality and completeness of the data being input into the system by founders (okay, there's a bit of AI used during this stage, but not much.) We call this first level of evaluation the Hatcher+ Quality Score. 
Once we're convinced we're dealing with an application that meets our quality standards, our AI-powered evaluation platform takes over.  These machine learning algorithms, built by my partner Dan Hoogterp using findings derived from over 450,000 venture investments (including the opportunities input by our co-investment partners), provide an assessment of the business itself.  We call this assessment the Hatcher+ Opportunity Score. 
Both results are rendered as easy-to-use x/1000 scores in our ERP system - and if the business passes a certain threshold, and email is set to our co-investment partners highlighting the opportunity.  A written report is available (in a choice of 16 languages), with a summary of the input data and major findings of the analysis. 
How is this useful? According to our research, most leading investors analyze 50-100 deals for every deal they invest in. Our algorithms can take 2,500 applications and dramatically filter this down to 250 - or even 50 - of the most interesting. This enables our co-investors to be much more efficient and focused, spend more time in serious face to face interviews with founders, and much less time flipping through business plans and presentations. 
A final clarification: We don't use AI to pick specific opportunities or remove humans from the process. Rather, we're using AI to ensure that when humans choose to spend time looking at a deal, or in a meeting with founders, their time is managed in the most value-producing way.
Using Automation to Scale
Back when we were developing and actively filtering the business plans that resulted in the 13 companies that comprised our H1 portfolio, Wissam and I became frustrated with the myriad number of spreadsheets all purporting to be the same "Master Cap Table" for any given portfolio company, the lack of centralized access to data and comparative performance analysis, and the rampant amount of guesswork and bias we saw going on when it came to investment (and reinvestment) decisions. So, we started building a platform to automate much of the grunt work - and eradicate some of the guesswork. 
Three years on, that platform has evolved into the Hatcher+ Stack - a powerful and versatile toolset. Since formally launching it about a year ago, we've incorporated input from dozens of user groups, including VCs, family offices, crowd funding companies, merchant bankers, founders, and accelerators. Today, this platform offers a remarkable level of automation and capability to investors, from highly scalable deal sourcing, portfolio management, and investment automation - to opportunity weighting and cohort management, and performance metric monitoring and demo day investor analysis. I'll stop here - if you're interested in the whole feature set, there's an extensive overview deck we can email you. 
Why is this automation important? It's important because it is enabling us to build up a network and massively scale up our business, something that isn't possible using Excel and email.  Automation is key to scale in most business strategies.  Scale enables diversification (see next section), and a much broader viewing angle.  
There are other good reasons to automate as well - when you automate something using intelligent decision-mining, you free up a person's time to think about - and be informed more deeply about - investment decisions. New companies need help from humans to be successful, in the form of mentoring, help with recruiting, strategy, capital raising, developing networks, and marketing... our automation allows investment firms to scale all of the above, scale their portfolios, and unlock hidden value by modernizing the venture investment process.
Why Global Diversification is Important
We've looked a lot at the correlation between successful later-stage funding campaigns and exits, and the various better-known geographic clusters, and we're of the opinion that combining a global sourcing strategy with strong ties to experienced growth capital funds is the best approach to finding and building value in early stage companies. 
One of the reasons global sourcing works is because quite often, outside of the US, the risks of investing in a startup are heavily discounted.  We see this effect most prominently in the initial valuation upon formation, but it continues up to and including the Series A rounds as well, creating return multiples for early-stage investors that often outpace US-based angel investments. 
The ecosystem for startups and entrepreneurship is globally improving quickly, a positive indicator for future opportunity - but news about new business plans is traveling faster than ever.  Quite often, local entrepreneurs (i.e. Didi, Careem, Grab) are in a much better position to fund, adapt and scale their businesses than the originators of these business models (Uber).  Our global diversification strategy allows us to seek out the next generation of these fast adapters, invest in their earliest rounds, and connect them to quality later-stage capital and new markets via our network.
Note: Re accessing later-stage funding, our analysis of over 450,000 venture investments from around the world shows us that global diversification has some limits when it comes to later stage investments (as Hatcher+, we don't invest past Series A, so I'm including this finding for those of you that do.)  In fact, our findings shows that the most successful, later-stage, venture-backed firms tend to be based in the US. 
Why?  Our hypothesis is quite simple, and has received a lot of support from LPs and industry peers at conferences in the past year: we simply think the reason that US growth capital returns are more impressive is because these firms are simply more patient, more experienced, and more capable when it comes to helping businesses expand, cross-border.  Entrepreneurs from non-US startups usually figure this out on their first trip to the Valley, and the smart ones dedicate some of their Series A funding to relocating there.  
The lesson here - if you have invested in a non-US startup and they announce their intention to relocate to Boston, New York, or the Valley, encourage them to do so.  You will probably see a significant rise in the value of your shares - and increase significantly the probability that the company will make it all the way to exit. In the meantime, you should keep investing locally - our research shows that startups deliver consistently high multiples up to and including Series A, regardless of where they are based.     
Expanded Liquidity Options for LPs
Most contracts between VCs and their investors, or LPs, are structured around the concept of a 10 year lock-up - but data from several sources shows that approximately 50% of VC funds are still "live" at year 15.  Which is okay for some LPs (for groups with patient capital, such as SWFs or pension funds, lockup periods are less important than overall returns, co-investment options, and other considerations) - but for many of the family offices and other groups currently moving into venture, a ten (or fifteen) year lock up, and a long-term commitment to paying management fees, is not attractive.  
For this reason, we decided to explore two innovative approaches to liquidity: the first is a commitment to sell, list, or otherwise divest our portfolio at a point at which our investments have reached Series A and we've achieved our target IRR (our target is to sell between year five to seven from the start point.)
The second option we've put in place enables earlier liquidity via an Exchange Traded Note (US-based investors should probably stop reading here, because the Exchange Traded Notes, or ETNs, that we're wrapping around our traditional Cayman fund units are only available to investors from non-US jurisdictions.)  
These securities, which have the same rights and title to the underlying fund as those enjoyed by unit holders of the H2 Cayman fund itself, can be purchased through any registered broker, and traded via the Euronext and Weiner Bourse exchanges, enabling LPs to trade out of their positions at any time - typically once they have achieved their targets.    
This strategy, which was designed as a solution for liquidity, has some additional positive benefits when it comes to the investment process: investing via our ETN is a much simpler approach than traditional investment processes.  Gone are the weeks of reviewing subscription agreements and filling out KYC questionnaires - with the ETN, you simply send the ETN's ISIN number to your broker, and your work is done.  The transaction can usually be processed in fifteen minutes or less - a significant improvement over the weeks/months it typically takes to close an investment into a fund.
AI, Automation, Scale, Diversification, Liquidity - Putting It All Together
Last month, we started using our AI and automation technologies to make investments, and we're scaling up fast - by the end of this quarter, we expect to become the most active early-stage investor in the world (or very close to it - watch out for the PitchBook Q3 Venture Monitor report.)  We are fast becoming one of the most globally-diversified investors, courtesy of our tremendous global co-investment network.  We've completed our first investments inbound into the fund via the ETN.  We're in execution mode with respect to all of the above strategies, as are our partners.    
Further Adoption
It's hard to know how quickly some of the above concepts being use by Hatcher+ will be adopted by other VCs, but our hope is that these approaches will eventually become key parts of a more modern, global, and scalable approach to investing in young companies.  
There are signs this is happening - a number of our peers have adopted exciting new AI and machine learning approaches, and usage of ERP platforms is increasing as well.  Scale will prove tough to achieve for some VCs, but brand and process-sharing and franchise models are emerging as one possible approach to 'going global'.  And the high levels of interest from leading funds in token-based funds and (STOs in general) shows that we're not the only folks that think the current approach to enabling liquidity can be improved.  
It's exciting to think about how quickly - and positively - things might evolve from here.