Wednesday, December 17, 2014 by John Sharp (Hatcher+) 4,560 Views
Last week, I visited our new partners in the beating heart of South America - Sao Paulo and Rio.  And while I knew I was entering a large population center, I was unprepared for how large it actually was, and lacked the tools to understand how large Brazil's commercial cities were on a comparative basis. So I went looking, and found this: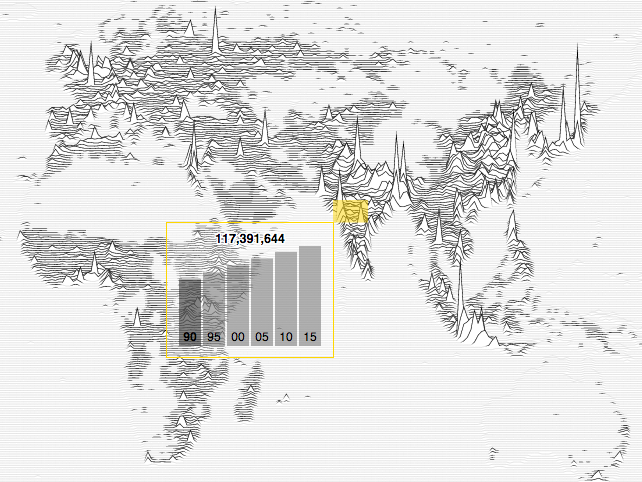 I think this d3 visualization, by Adam Pearce of Bloomberg in NY, does a terrific job of illustrating not only the obviously population-rich places like China and India, but other massive markets like Indonesia, Japan, Iran, Egypt, the Philippines, and Central Africa.
Also of interest: individual centers such as Istanbul, Moscow, Mexico City, and Sao Paulo - and the cluster centers of Western Africa and the Levant.
The map also provides a satisfying level of support for our emerging markets strategy - and a strong indicator (see yellow box, parked above Mumbai in the above graphic) as to why Hatcher's India-based portfolio companies (EatAds, SocialCops) have chosen that market as their focus - and why several of our other companies are looking now to Indonesia - and Brazil.
John is a Partner at Hatcher Plus, the leading data-driven venture capital investment firm. John has extensive commercial experience at the senior management level, having been the Chief Executive Officer of Authentium, Inc. the Managing Director, Asia, of WorldSpace, and CEO of Hatcher, the precursor company to Hatcher+. A tenacious and driven executive with longstanding board-level and C-suite level management experience within high-growth companies, John also brings a strong history of capital raising from an extensive network of investors globally. As Chairman and CEO of cybersecurity pioneer Authentium (acquired by CYREN in 2010), John co-authored three US patents and developed and sold cybersecurity solutions to some the largest organizations in the world, including the US Department of Commerce, NASA, AOL, British Telecom, Comcast, Cox Communications, Google, McAfee, Microsoft, Symantec, and Telstra. As CTO at Hatcher+, DocDoc, Heardable, and ThoughtRiver, John has designed and developed several highly-innovative technology platforms using cutting-edge approaches to data processing, user interface design, and workflow optimization. John is a frequent blogger and an in-demand speaker at venture events globally, and has extensive experience implementing ESG solutions as Chairman and/or board member of numerous start-ups, including director roles at trade finance provider ASYX and payment aggregator Mozido, and roles as Chairman of MENA-based financial services pioneer Telr, and the leading Cambridge-based legal services technology company, ThoughtRiver.