Monday, February 11, 2019 by John Sharp (Hatcher+) 2,048 Views
Graduates of accelerator programs are increasingly showing up in unicorn lists and data is increasingly available that shows these companies are raising more money - and surviving and thriving longer - than non-accelerated startups.  So how hard is it to get accepted into a leading accelerator program?  The answers may surprise you.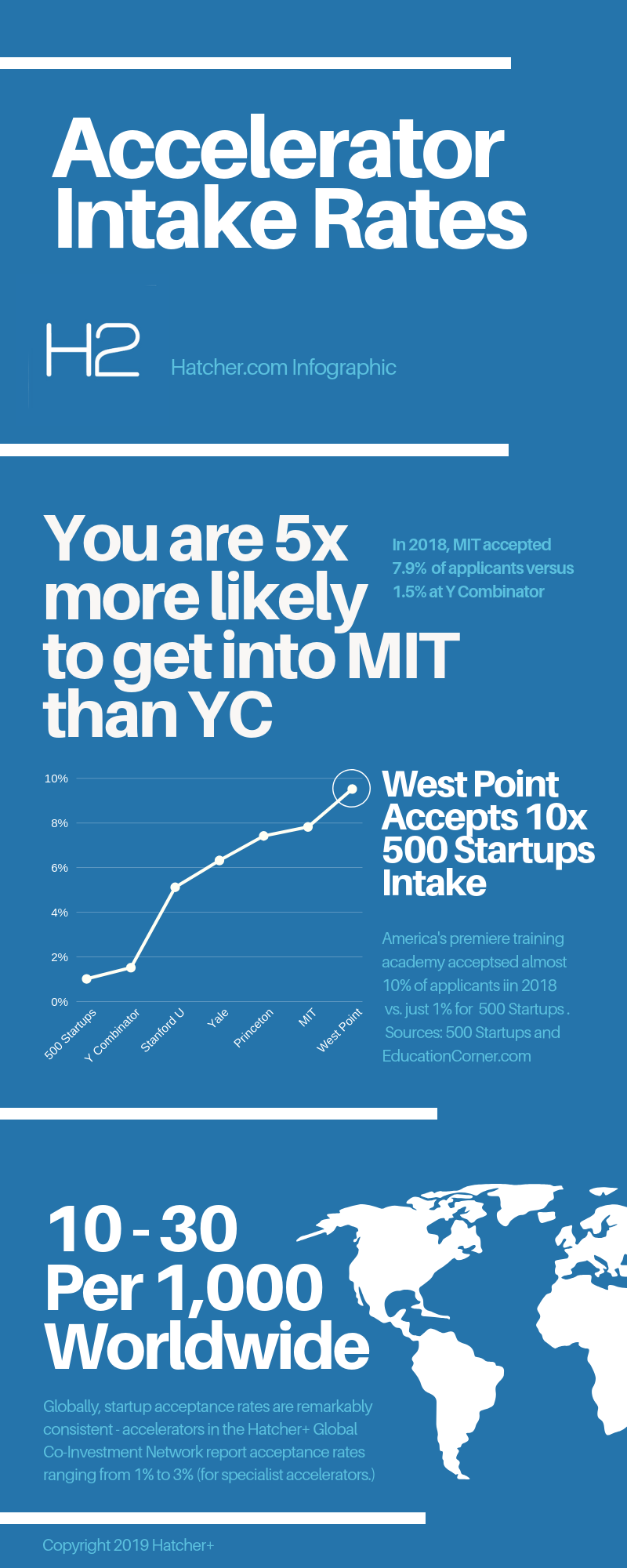 Out of deference to the alumni of some leading universities, we capped our comparison chart at 10% - but there are number of leading universities you can apply to where you have a one in five, or even a one in three chance of getting in.  Not so at the leading accelerators - almost everyone we have relationships with reports acceptance rates in the low single digits - and there is anecdotal evidence (and some published stats) showing acceptance rates in the sub-1% range (TechStars), and some that are far lower.  
There's some very valid reasons for the rising popularity of accelerator programs.  2017 data supplied by Dealroom.co shows accelerator-backed seed stage companies in Europe out-raising their non-accelerator-backed companies by a margin greater than 40% (37.5% versus 26.7%) in Series A rounds, and again during Series B rounds by a margin of almost 2x (26.7% to 14%).  There are arguments, excellently put by Yannick on his Medium blog, that argue that accelerated companies learn to be more capital efficient - much more capital efficient.
And while it could be argued that raising money and capital efficiency aren't everything, I don't know too many startups that think that way.  Or investors, for that matter.  
Then there's the increasing number of accelerated startups entering the Crunchbase unicorn list, including startups originating not only from the guys that transformed and reinvested the accelerator model (Plug and Play, TechStars, YC) - but from up and coming non-US accelerators as well, such as Chinaaccelerator (BitMEX) and Hatcher+ Australian partner BlueChilli (Canva).  
There are more than 4,500 accelerators now listed on PitchBook - and all are learning best practices from their peers and these successes - and applying increasing amounts of data analysis and technology and training to help founders build increasingly efficient, well-run startups with a proven greater chance of success than their non-accelerated cousins.  
Should you apply, when the odds are just 1 in 100?  Of course you should.  You can apply to a number of fantastic accelerators, including some of those mentioned above, right here.  
John is a Partner at Hatcher Plus, the leading data-driven venture capital investment firm. John has extensive commercial experience at the senior management level, having been the Chief Executive Officer of Authentium, Inc. the Managing Director, Asia, of WorldSpace, and CEO of Hatcher, the precursor company to Hatcher+. A tenacious and driven executive with longstanding board-level and C-suite level management experience within high-growth companies, John also brings a strong history of capital raising from an extensive network of investors globally. As Chairman and CEO of cybersecurity pioneer Authentium (acquired by CYREN in 2010), John co-authored three US patents and developed and sold cybersecurity solutions to some the largest organizations in the world, including the US Department of Commerce, NASA, AOL, British Telecom, Comcast, Cox Communications, Google, McAfee, Microsoft, Symantec, and Telstra. As CTO at Hatcher+, DocDoc, Heardable, and ThoughtRiver, John has designed and developed several highly-innovative technology platforms using cutting-edge approaches to data processing, user interface design, and workflow optimization. John is a frequent blogger and an in-demand speaker at venture events globally, and has extensive experience implementing ESG solutions as Chairman and/or board member of numerous start-ups, including director roles at trade finance provider ASYX and payment aggregator Mozido, and roles as Chairman of MENA-based financial services pioneer Telr, and the leading Cambridge-based legal services technology company, ThoughtRiver.